About the Auction
Bidding will start at 0.25 ETH, and you can bid on up to 50 NFTs per wallet. The number of NFTs available for auction will depend on the supply remaining after the allowlist mint. The top bids will win. In the case of a tie, bids placed earlier take precedence.
Winners Pay the Floor Price
Everyone who wins pays the same price. When the auction closes, any winning bids higher than the lowest winning bid (the floor price) will receive a partial refund of the amount they paid exceeding that price.
If a floor price of 2 ETH is reached, the auction will end immediately. This means the maximum you will possibly pay in the auction is 2 ETH per NFT. Otherwise, the auction will end randomly during the final 2 hours.
The random end mechanism helps prevent last-minute bid sniping, and the 2 ETH cap ensures that the auction remains fair and accessible.
Refunds and then minting will follow shortly after auction close. To claim any refund owed and mint any NFTs you've won, return to this page after the auction.
What is Webaverse?
Webaverse is the culmination of years of work, obsession, and passion for creating fun and interoperable virtual worlds, way before any of the 'metaverse' hype. The team is made up of of artists, devs and creatives who have been relentlessly building the foundations of a fun open source metaverse for over a decade.
100% Open Source
The risks around human liberty and freedom are too great for the metaverse to not be open source.
Pre-Hype
Webaverse has been building the metaverse since before the metaverse was a thing. The github is a testament to this.
Craft Your Own Future
Webaverse gives you the tools to create your own digital presence within the metaverse.
Empowering Creators
In addition to land, you'll get access to concept art, themes, ideas, pre-generated terraformed land and even AI tooling to help you shape your Upstreet story.
NFT First
Ownership of digital assets is a fundamental human right. Platforms of the future should natively integrate NFTs to provide a frictionless right of exit.
Web Native
Being web-based makes Webaverse as accessible as possible. The experience doesn't change across your phone, tablet, computer, or any other device.
Collaborative
Building cool stuff together is more fun than alone. Webaverse will be hosting educational courses, content, community events and creation groups.
SentientW
AI tech enables any creator to build procedural worlds, NPCs, and evolving stories which connect to other stories as part of Upstreet.
VR Compatible
Virtual reality enables a much more immersive experience than 2D screens, which is why the Webaverse engine is fully compatible with VR headsets.
Webaverse Gameplay
Webaverse's purpose designed open source game engine is a canvas for story telling which lets anyone build and monetize their virtual worlds with our creator friendly tools, gameplay scripting, low code procedural generation, ability to customize our code and SentientW tech for AI NPCs enabling immersive experiences across social, entertainment, commerce and education.
Welcome to The Upstreet
Built on the purpose designed open source Web3 native metaverse engine from Webaverse, Upstreet supports user generated content which can be dragged and dropped into the game as well as on-chain NFTs can be brought to life via our SentientW technology.
User generated content is supported in Upstreet through all standard file formats which include: video, audio, avatars, wearables, weapons, vehicles, pets, 3D models, shaders, programmatic interactions and even webpages.
The team at Webaverse believes that the metaverse should be the sum of our collective imaginations, with Upstreet being the collective story where people have the ability to self-create virtual worlds and games. If they choose to include their story in realtime as part of this virtual universe they can, and should!
How the Drop Works
The Webaverse Upstreet drop is divided into two phases and was carefully designed to be as fair as possible.
Phase 1
Allowlist + Rafflelist Mint
If you are eligible for the rafflelist, register during the registration window, and win the raffle, you'll be able to mint one NFT per address for 0.2 ETH.
A number of people have been rewarded with a direct allowlist spot for their participation in the Webaverse community as well and are also eligible to mint one NFT per address for 0.2 ETH.
Rafflelist registration will open Aug 3, 2022, 5:00:00 PM UTC and last for 2 days.
Allowlist and rafflelist minting will open Aug 6, 2022, 5:00:00 PM UTC and also last for 2 days.
Phase 2
Capped Auction
After allowlist minting ends, the remaining NFTs will be sold in a capped English-style auction. The auction will start Aug 9, 2022, 5:00:00 PM UTC and last at most 24 hours.
If a floor price of 2 ETH is hit, the auction will end immediately at that price. Otherwise, the auction will end randomly during the final 2 hours.
Once the auction process is over, NFTs won during the auction will be mintable on this same page.
Bidders that fail to win a NFT will be able to claim their refund post-auction.
Supply Distribution
7,870
Capped Auction
Just under 8,000 NFTs are being sold in the public auction using a non-price discriminating, capped English auction.
6,038
Allowlist
Webaverse awarded a number of community members with direct allowlist spots for their support.
1,842
Rafflelist
21 communities were given up to 150 AL spots each, with an on-chain raffle occuring to select the lucky community members.
1,250
Partners & Early Backers
Sold OTC to long time backers, supporters, and partners who have plans to invest in builder DAOs and guilds.
1,000
Collaborations
Sold OTC to a collab project that will be announced soon.
1,600
Webaverse Vault
A number of NFTs will remain in the Webaverse vault to be used for future partnerships among other things.
400
Metadrop Vault
2% of the total supply will go to the Metadrop vault, which is standard for all Metadrops.
The Webaverse
Genesis Pass NFT
The Webaverse Genesis Pass is your toolkit for the open metaverse. The pass allows you to participate in The Upstreet, a collaborative MMO being built by Webaverse. Each pass will allow the holder to claim a parcel of land in The Upstreet in the near future, and will include its own lore and artifacts, along with future airdrops from the Webaverse team.
Buildable Land
Your very own parcel of land in The Upstreet! Go with the pre-defined generated land or terraform it and place a coffee shop on top!
Access to AI tech
The NFT grants you access to Webaverse's SentientW Engine, to build out your story and world with the help of AI.
Integrate your NFTs into the Story
Bored Ape? A Wassie? A CloneX? Any NFT you own can take a key part in The Upstreet story by populating the world.
Pioneers of the Metaverse
Webaverse sees the initial Genesis Pass holders as people who are committed to seeing the full vision of the metaverse.
A Community of Creators
Webaverse's organic community of buildooors are already utilising the platform for immersive storytelling - building stories and virtual worlds. The platform makes it incredibly easy for anyone to build their immersive worlds and make them come to life.
The goal is freedom
Freedom to Create
You control your land. You get to decide how it looks, whether it's 3D or 2.5D, whether it's full of giant flying blueberries or sharp metarocks.
Freedom to Access
Webaverse is web-based, open, and accessible. Anyone with an internet connection can plug in and play.
Freedom to Own
Your assets, your world, your creations — they're all yours. Open standards ensure anything you create is usable across other platforms.
Powered By
Metadrop is the most highly curated NFT drop platform. We only partner with the most exciting projects that are using NFTs in novel ways and help bring these projects to life through unique, custom drops.
Each drop is different and ground breaking in its own way, but all of them are fair, avoid gas wars, and ensure the projects raise enough funds to deliver on their vision. Join the Discord or follow Metadrop on Twitter so you can get notified for future drops.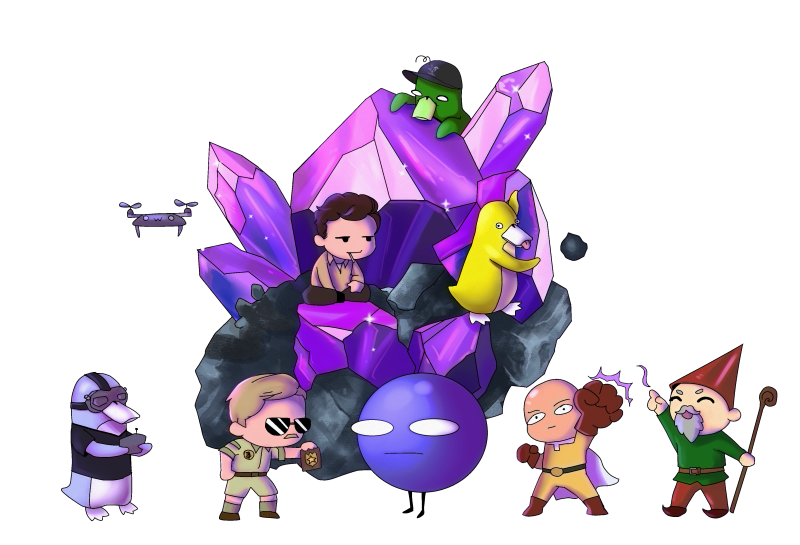 Have Questions?